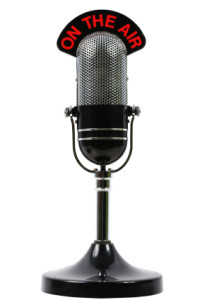 It's no secret that I'm a big fan of old time radio… I'm writing a mystery series around it after all. But the problem with old time radio is, well, it's old. It is a finite resource. New episodes of shows like Lights Out, Jack Benny and Gunsmoke stopped being produced sometime in the 50s or 60s (or in the case of Lights Out, the 40s). The good news is that audio drama is experiencing something of a resurgence with the rise of podcasting in recent years. In honor of #AudioDramaSunday I've made a list of my current favorites below (and as you can see, I like to be scared). Check them out if you get a chance. Happy Listening!
Thrilling Adventure Hour – A stage show and podcast in the style of old-time radio
The Black Tapes – A serialized docudrama about one journalist's search for truth, her enigmatic subject's mysterious past, and the literal and figurative ghosts that haunt them both.
Tanis – A serialized docudrama about the myth of Tanis (tangentially related to The Black Tapes above)
Campfire Radio – Original horror
No Sleep – Original first person horror that originated from the nosleep forum on Reddit
Suspense – A revival of the classic old-time radio anthology with all new stories
Manor House – Original horror
Fireside Mystery Theatre – An old-fashioned, live radio show with a modern horror twist. Recorded live in Manhatten.