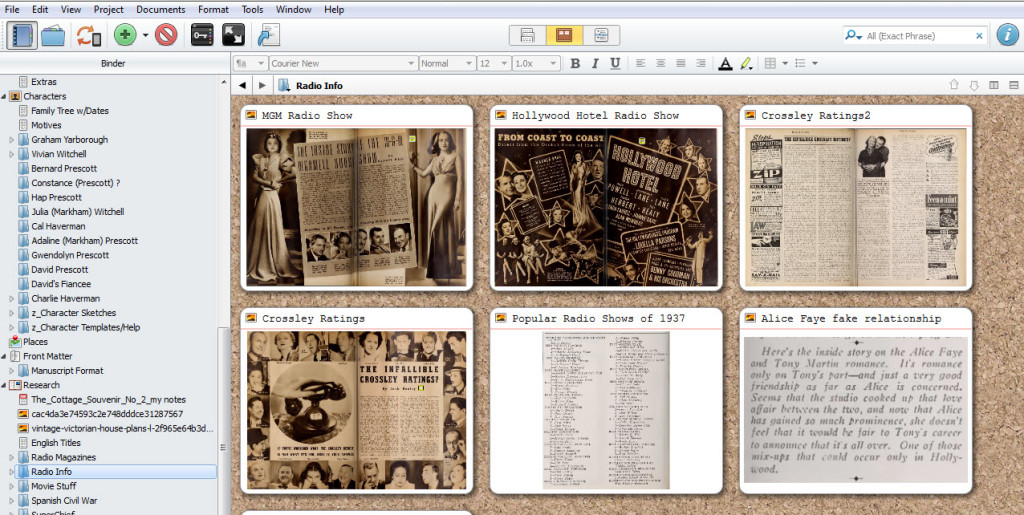 Everything I've ever written has just been typed straight into Word. I have a Google Drive folder for each book/story and they each have sub-folders for research, photos, drafts, etc… And I was okay with that.
Then I saw Scrivener. It's so bright and shiny and can do So. Many. Things. Too many things perhaps? I'm determined to use it to write Book #3, but the learning curve is HUGE. I love the research section. I can just stick photos and webpages right in there and they show up in the corkboard view like a real corkboard. But I feel like there are so many cool things I'm not using because I just don't know they exist.
I'm taking the Learn Scrivener Fast lessons online (I sprung for the Ninja level), but I'm still struggling. I suspect that as the deadline looms closer and closer and crunch time hits that I'll go back to the tried and true – typing directly into my old pal Word. We'll see.

Psst… If you look closely at the photo above you'll get a tiny glimpse into Book #3.