In case you haven't noticed I am a huge history nerd. I also love a good ghost story (and to actually "hunt" ghosts, but that's another post). So my eyes lit up when I spied this event from the Wisconsin Historical Society: When Angels Carried them Away: Death and Mourning in the Victorian Era.
That's right. I spent last Saturday evening learning about Victorian funeral customs. The day cooperated by being delightfully dreary. The misty rain stopped long enough for us to disembark from the tour boat at Black Point Estate to hear an interesting presentation on Victorian death and funerals (It's presented only 3 Saturdays in October. There are 2 left if you're in the area).
I was surprised about how much I already knew – that's probably because I read books like "This Republic of Suffering: Death and the American Civil War" and "Wisconsin Death Trip" for fun. Pre-WWI, most wakes and funerals were held in the deceased's home, and the body was prepared for burial by the family. It's a bit ghoulish to modern sensibilities, I suppose, to imagine having a dead body in the house for days – even if it was a beloved relative. But death was a common occurrence then. It came at you from all sides – communicable disease being the main culprit. Sanitation wasn't great, and antibiotics wouldn't become widely used until the end of WWII. A simple cut could lead to an infection that could then lead to sepsis and death lightening quick. The death rate for infants was almost 20%. It was a rare mother that didn't lose at least one child to disease before its first birthday, and most women lost more than one.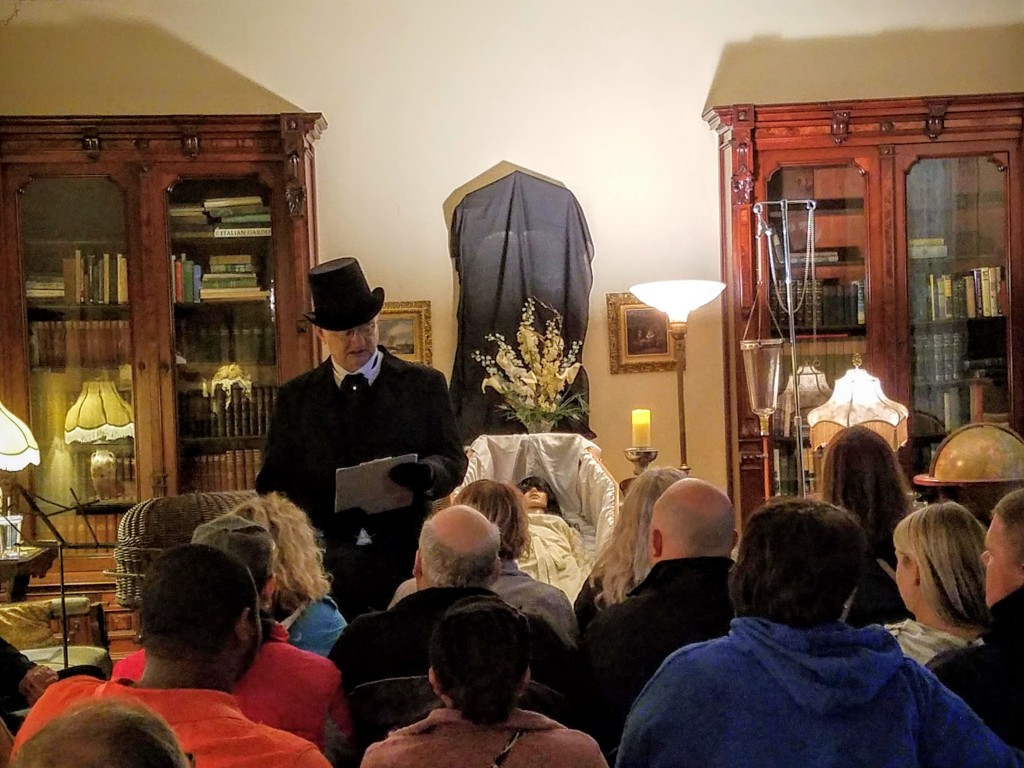 According to this presentation, embalming came into being with the development of formaldehyde in the 1860s and was first practiced on a large scale during the American Civil War to allow soldiers' bodies to be sent home from the battlefield to their families for burial. The man presenting was a retired funeral director and he had a vintage collection of fascinating (and pretty morbid) embalming and burial implements. The metal clamp for keeping a body's mouth closed until rigor mortis could set in was especially shiver inducing – as well as a metal and glass contraption for collecting fluids from a body while it was being transported in pre-embalming days. (Here's a word for you to ruminate on – "putrefaction". You're welcome.)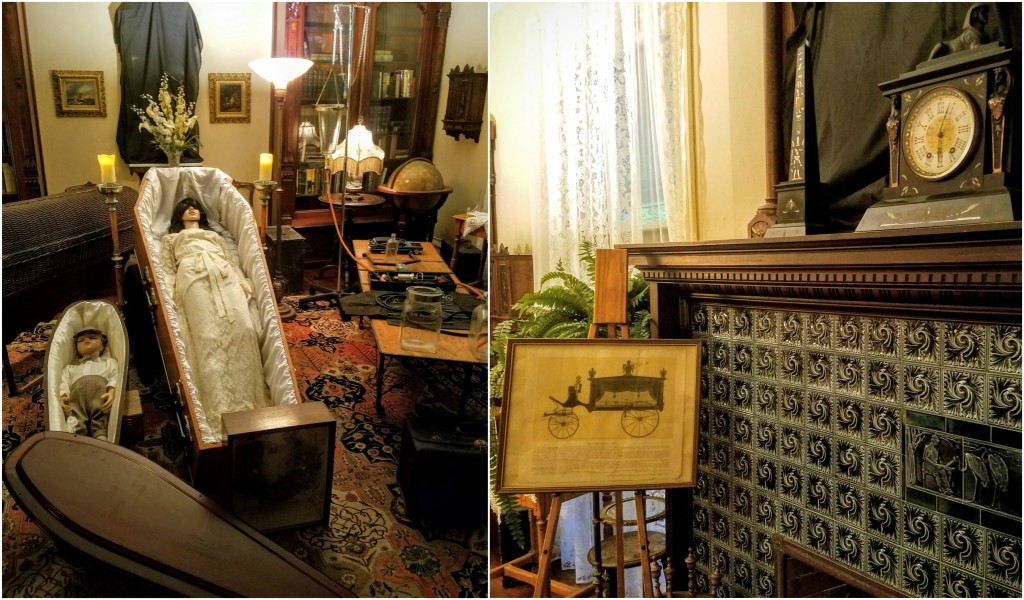 The presentation also touched on a particular Victorian past-time: post-mortem photography. Yes, people had photos taken of deceased loved ones for keepsakes. There is some evidence, though, that the popularity of that been overblown in today's popular culture. Maybe Victorians weren't quite as ghoulish as we've been lead to believe. Still, it's a nice creepy thing to think about – if you're inclined to think about nice creepy things – as I am. Google it, if you dare.
I half expected the house to have been set up like an actual Victorian wake was in process and the tour group to be lead in as mourners. It wasn't, but still, it was a very interesting evening.
By the way, I overheard a tour guide assuring someone that they haven't had any reports of ghostly activity in that particular old house. Too bad… it would be a fantastic place for a ghost hunt.