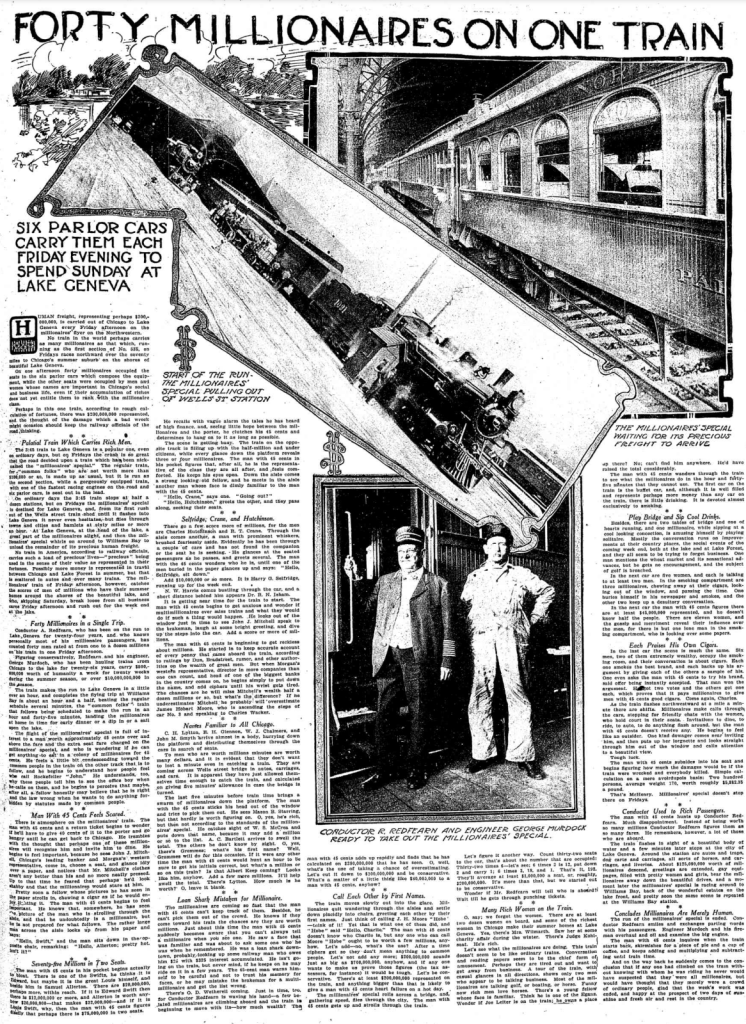 I spent the weekend in Lake Geneva, WI, and happened to pass the spot where the original train station stood. The location is the most depressing of suburban bank branches now (the railroad ended service to Lake Geneva in the 1960s), but there's a historical marker out front that mentioned the "Millionaires' Special", and I did a little jig of joy. That train appears in the 3rd book in the Viv and Charlie Mystery Series! (Vivian's grandfather was a titan of the meatpacking industry (on par with Armour and Swift) and took the famous train on summer weekends from Chicago up to his estate on Lake Geneva.)
I found a Chicago Tribune article from July 21, 1907 in which an average man (he says he has 45 cents to his name) takes the Millionaires' Special and describes what he sees. It's a strange article – most of spent dropping names and tallying the collective worth of the men on board the train. You can read the PDF version of the full article by clicking this link: Forty Millionaires on One Train. But beware, the Chicago Tribune editorial department of 1907 seemed to have quite a tolerance for run-on sentences.
"The 3:45 train to Lake Geneva is a popular one, even on ordinary days, but on Fridays the crush is so great that the road decided upon a train which has been nicknamed the "millionaires' special." The regular train, for "common folks" who are not worth more than $100,000 or so, is made up as usual, but it is run as the second section, while a gorgeously equipped train, with one of the fastest racing engines on the road and six parlor cars, is sent out in the lead.
On ordinary days the 3:45 train stops at half a dozen stations, but on Fridays the millionaires' special is destined for Lake Geneva, and, from its first rush out of the Wells street train shed until it flashes into Lake Geneva it never even hesitates -but flies through towns and cities and hamlets at sixty miles or more an hour. At Lake Geneva, at the head of the lake, a great part of the millionaires alight, and then the millionaires' special whirls on around to Williams Bay to unload the remainder of its precious human freight."
I got curious about where exactly (estate-wise) all of the important millionaire's name dropped in this article were going, so I got out my trusty Lake Geneva: Newport of the West 1870-1920 book and looked them up.
Four of the men mentioned have estates that are still standing:
1. Edward Swift – He was the son of Gustavus Swift founder of Swift meatpacking of "everything but the squeal" fame. He built Villa Hortensia which looks almost the same as it did when built in 1906.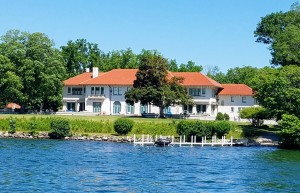 2. N. W. Harris – He was a banker and founder of what would become Harris Bank. He owned Wadsworth Hall – which is now the Driehaus Estate and has been restored to look as it did when built in 1906.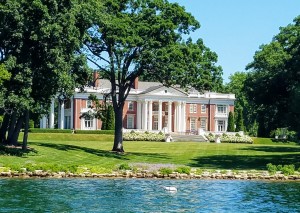 3. A. C. Bartlett – He had House in the Woods built through the winter of 1904/1905 under a 3-ring circus tent so it would be ready as a gift for his wife in the spring. It's still standing and restored to look as it did when built.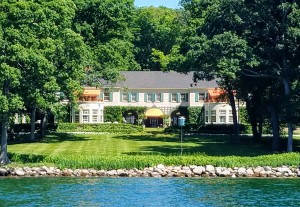 4. Charles Wacker – He was a Chicago brewer and the director of the 1893 Columbian Exposition held in Chicago. You may recognize his name from Wacker Drive. He built Fairlawn in 1894. It still exists as a private residence and looks as it did when built.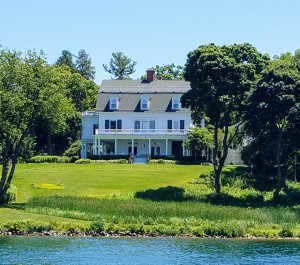 Two that are gone, but still interesting:
1. John J. Mitchell – He was the dean of Chicago Bankers. He owned Ceylon Court in 1907. Ceylon Court is also mentioned in Book 3. It was actually the Ceylon Pavilion from the 1893 Colombian Exposition – disassembled and reassembled in Lake Geneva and converted to a private residence. It was torn down in the 1950s.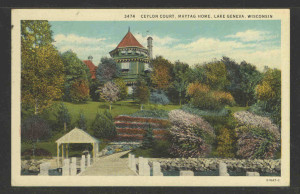 2. Harry G. Selfridge – He was a retail magnate and founder of Selfridge's department store in London. You may know him from the fictionalized portrayal of him in the PBS show, Mr. Selfridge. He built Harrose Hall in mock Tudor style complete with large greenhouses and extensive rose gardens. Unfortunately, it was razed in 1975.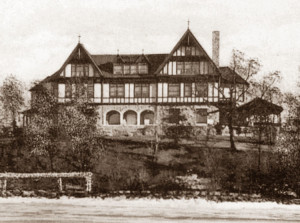 The Millionaires' Special may be long gone, but lest you think Lake Geneva's days of pricy estates are long past – I saw listing in the window of a realtor this weekend for a lakefront property going for a cool $18.5 million.