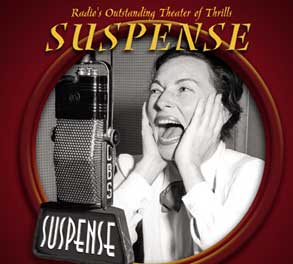 In honor of my upcoming birthday (next Monday), I'm featuring my absolute, hands-down favorite old time radio episode of all time – "Sorry, Wrong Number" from my all-time favorite radio show, Suspense.
This episode features Agnes Moorehead (You probably know her as Samantha's interfering mother, Endora, from Bewitched) as a sickly woman who overhears a menacing telephone conversation. That's all I'm going to tell you. I don't want to spoil it.
This episode originally aired August 21, 1943 and was repeated several times throughout the twenty years Suspense was on the air.
The story, by Lucille Fletcher, was turned into a 1948  movie starring Barbara Stanwyck (one of a my favorite sass-mouthed dames). The radio show is far superior, in my opinion, due to the restrictions of the medium. It makes it so much scarier to not be able to see anything that's happening…
Anyway, I hope you love it as much as I do.