(I wrote this brief history of Chicago radio for my publicist at Sourcebooks, and I thought I'd share.)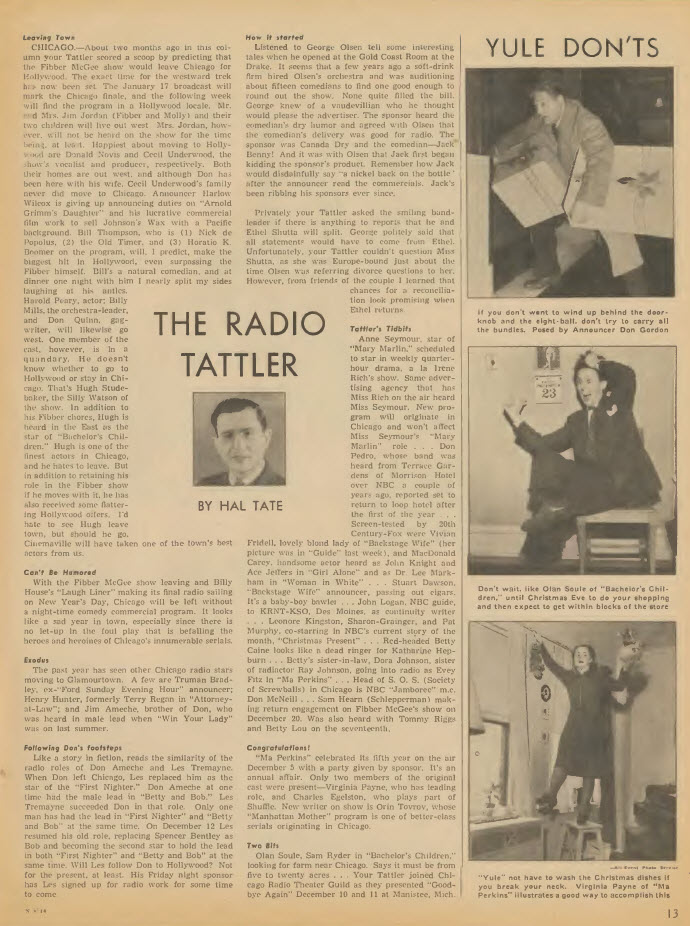 Chicago was a major player in radio from the beginning of the medium in the early 1920s. AM band stations (which was all they had at the time) were and are known for their strength of signal. Because of the flat geography of the Midwest, it was possible tune in a Chicago broadcast from the east coast all the way to the Rockies. Chicago was also a central switching point for transcontinental network lines (like NBC, CBS), and production facilities in Chicago fed programming to the various time zones in the days before pre-recording technology. The networks were committed to 19 hours of original programming a day and a good portion of that came out of Chicago.
National favorite programs originating from Chicago included Fibber McGee and Molly and Amos 'n' Andy (both eventually moved production to Hollywood).  One of my personal favorite spooky shows Lights Out originated in Chicago.
The soap opera format was pioneered in Chicago by Irna Phillips on WGN in the early 1930s. Many soaps were produced in Chicago, among them one of the most popular soaps of the radio era, Vic and Sade. The Guiding Light started in 1937 in Chicago and played on radio for 15 years before moving to television to become the longest running soap opera of all time (72 years!).
There were live radio remotes from Chicago nightclubs like the Empire Room, the Edgewater Hotel, etc… that showcased sets from the top bands of the day like Benny Goodman (who was born in Chicago). "Kay Kyser's Kollege of Musical Knowledge" was a popular national musical quiz show broadcast live from Chicago's Blackhawk restaurant.
Radio guides and fan magazines in the 1930s had three distinct gossip columns focusing on New York, Hollywood, and Chicago. That's a screenshot above of a Chicago gossip column from a December 1938 issue of Radio Guide.
There were three major stations/networks in Chicago in the late 1930s. (WCHI – The station in The Darkness Knows is completely fictional. J)
WGN – CBS/Mutual Broadcasting (broadcast from the Wrigley Building)
WMAQ – NBC Blue Network (broadcast from the Merchandise Mart)
WLS (Standing for World's Largest Store – aka Sears) was famous for its programming aimed at the farmers of the rural Midwest. The station was famous for The National Barn Dance with the "Singing Cowboy" Gene Autry
Chicago itself was also a major stopping point for those traveling from NYC to LA. They had to change trains and stations while in Chicago. That meant a lot of celebrities stopped, at least briefly, in Chicago during that era and were interviewed on the radio and had their photos taken for the newspaper.
Comedian Jack Benny was from Waukegan (where I lived briefly) and mentioned it often on his popular radio program.
Chicago's heavy involvement in producing original radio content petered out by the end of WWII. Most shows were produced in LA or NYC after this time. And radio, as a medium of original content anyway, died out with the growing popularity of television in the 1950s.