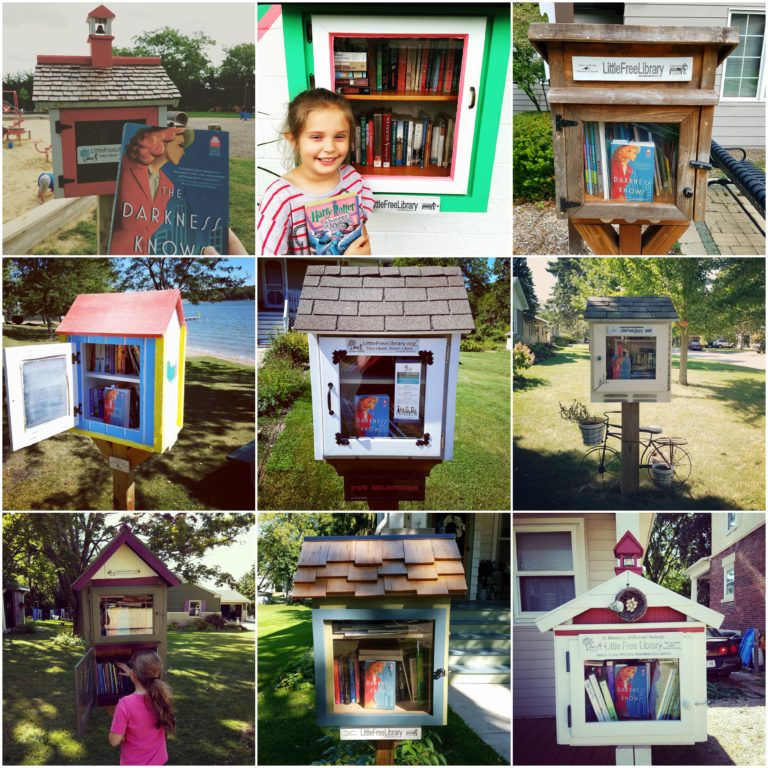 I started noticing them a few years ago – one at a petting farm last summer and one in Mt. Horeb, WI (the troll capital of the US). I thought they were cute, but there weren't any near my house or any that I passed on a daily basis. Then I realized I had 2 boxes of leftover ARCs of The Darkness Knows (and a new book coming out in less than a month), so I pulled up the old little free library map. I started to go hunt out LFLs I could visit on my lunch break at work, but there are only so many of those.
Then this past Saturday I found myself with a whole day of not much to do and some beautiful weather, so my 8-year-old and I went on a little free library scavenger hunt in southern Wisconsin. It was a blast – and truly a hunt, since we had to find most of them by GPS coordinates. I left a signed TDK in each and picked up many middle grade books for Kate (along with a few books for myself). I think we'll do it again next weekend. I'm also seriously considering getting a little free library of my own. Now I just have to convince the husband that it's a good idea to have strangers stop by our yard…
You can find LFLs near you on this handy map.
And if you're inspired to get your own you can build your own from plans or order them fully assembled or in kits.
If you have an LFL and you're in NE Illinois or SE Wisconsin let me know. I'll stop by with a book!