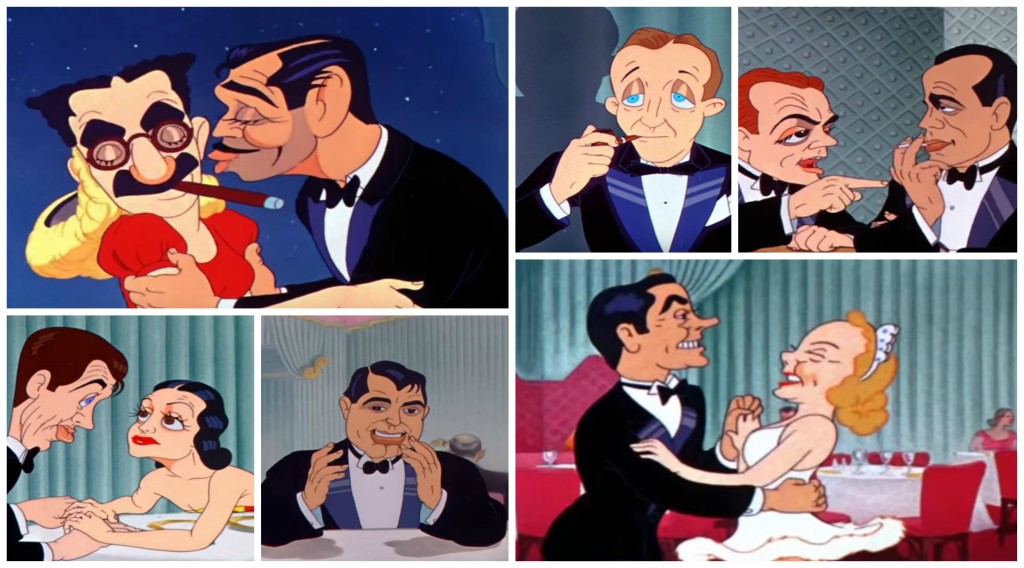 Clockwise from the upper left: Groucho Marx and Clark Gable, Bing Crosby, James Cagney and Humphrey Bogart, Tyrone Power and Sonja Henie, Cary Grant, Jimmy Stewart and Dorothy Lamour
I've been asked where my interest in the 1930s comes from, and I've always been pressed for a concrete answer – until today when it came to me as I was browsing antiques (and agonizing over whether I really had room for that gorgeous floor model Philco radio I found). I can trace almost everything back to the Merrie Melodies cartoon called "Hollywood Steps Out". I watched hour upon hour of Looney Tunes cartoons as a kid, and I'd probably seen this particular cartoon a dozen times by the time I was ten. I loved it even then. I don't know why exactly… I didn't know any of the people being spoofed yet (especially not Sally Rand). But there was something about it that led me to wanting to know who every person in this cartoon was (and if you want to know they're all listed in this Wikipedia entry). That lead to an interest in 1930s/40s movies and then to 1930s/40s culture, radio, and on and on… ad finitum.
I also loved the cartoon starring Jack Benny, his wife Mary Livingstone, and his sidekick Rochester as mice. It's not on Youtube, but you can watch "The Mouse that Jack Built" here.