This post isn't about the spectral beings that go bump in the night.* No, this post came about because I wondered how easy it was to get a driver's license in 1939 Illinois. It's been surprisingly difficult to find that answer, but I did find this example of a standard driver's license (Ohio 1938/39).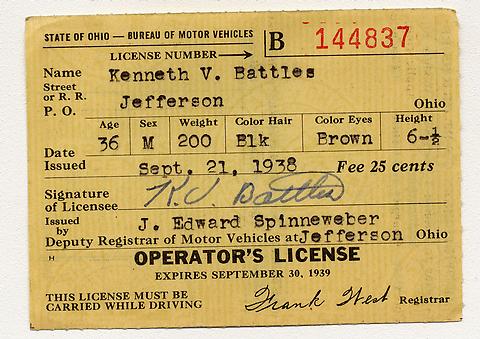 Basically, you got a piece of paper with your name, age, address, and general physical description on it. No picture. Nothing to prove your identity. A driver's license in the 1930s was just that – a document proving you were permitted to operate a motor vehicle in a specific state and nothing more. Now, of course, a driver's license is used as a piece of government issued official ID. Not so in the 1930s. Not so until much later in fact. (Texas didn't even have photos on their licenses until the mid 1970s!) Then, of course, I got to wondering about official IDs and just how easy it would have been to pretend to be someone else at the end of the 1930s. The answer: Pretty darn easy.**

It was incredibly easy prior to 1935, as a matter of fact. Social Security Numbers were introduced as part of FDR's New Deal in that year. Before that the US government had no real way to track anyone. Think about that… You could have lived a perfectly normal life with no birth certificate, no driver's license, no passport, no documents of any kind attesting that you were who you said you were. Weird to think about, isn't it? Even after SSNs came into effect it wasn't that hard to become someone else. Until 1986 (?!) a person was not required to have a SSN until they received their first paycheck (usually at the earliest around the age of 14). So it was relatively easy even into the 1980s to find a person that had died before adulthood, assume their identity, and be issued a SSN under their name. Crazy.
Government agencies also didn't communicate much with each other before the computer/internet age. The SS office didn't automatically share records with the passport office, for example. So if you wanted to dump your real identity and try a new one on for size in 1939 (i.e. Ghosting) all you'd need to do, according to what I've dug us so far, was:
Find a deceased person of your gender who would be about your age had they lived.
Make sure they died before being issued a SSN.
Make sure there weren't any close living relatives of that person that would know you aren't Uncle Joe or Cousin Sally.
Acquire the birth certificate of that dead person.
Use that birth certificate to acquire other means of ID as necessary.
Live it up with your new identity.
Of course, this is much more difficult today, though still possible. I'm sure you can find ample advice on the interwebs about it if you're curious.
___
* I also don't mean "ghosting" in the 21st century social media sense.
**Realistically though, most people wouldn't have wanted to. Most people are fairly happy with their lives and have loved ones they want to continue to have contact with on a regular basis. And whether they realized it or not, most people have dozens, perhaps hundreds, of people that know exactly who they are on sight. So, unless you were willing to move to the other side of the world, cut off all contact with anyone that knew you in your "previous life", and/or get drastically change your looks it was probably a no go – even in the late 1930s. Unless you were desperate or on the run from the law…